Tuesday, February 13, 2018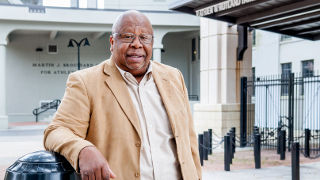 Credit: Don Kadair.
The Rose Mercadante Chemistry Seminar Series will feature Chemistry Professor Isiah M. Warner of Louisiana State University for "Reflections on STEM Programs within the Office of Strategic Initiatives." Presented by the Department of Chemistry and Biochemistry, the lecture will be held on Tuesday, February 20, 2018 at 5:45 p.m. in SC101.
Professor Warner, who was named Best Professor of the SEC (Southeastern Conference) in 2016, is the Vice President for Strategic Initiatives at Louisiana State University.
He is also a Boyd Professor at LSU (which is the highest professorial rank in the LSU system) where he serves as the Philip W. West Professor of Analytical & Environmental Chemistry and as a Howard Hughes Medical Institute Professor.
A Fulbright scholar who conducted a fellowship in Kenya, he has chaired or served on committees for the National Science Foundation, the National Research Council and the American Chemical Society. At LSU, he has previously chaired the Department of Chemistry and led efforts to recruit minorities in the STEM fields of science, technology, engineering and math.
Professor Warner has more than 340 refereed publications in a variety of journals relevant to the general areas of analytical and materials chemistry. His particular expertise is in the area of fluorescence spectroscopy, where his research has focused for more than 35 years. He is the corresponding author for the highly cited biannual reviews on "Molecular Fluorescence, Phosphorescence, and Chemiluminescence Spectrometry," published in Analytical Chemistry. He is, in fact, considered one of the world's experts in the analytical applications of fluorescence spectroscopy.
In addition to his fundamental research, Professor Warner has conducted educational research which focuses on mechanisms for maintaining and enhancing student education in science, technology, engineering and mathematics, with a particular focus on encouraging his students to pursue terminal degrees. It is primarily in this capacity that Professor Warner will deliver his lecture, "Reflections on STEM Programs within the Office of Strategic Initiatives."
This talk will focus on ongoing programs within LSU's Office of Strategic Initiatives (OSI), where Professor Warner serves as Vice President. These programs employ a holistic approach to enhancing the participation and education of a diverse group of undergraduate students in the areas of science, technology, engineering, and mathematics, commonly known as "STEM." One program example is the Howard Hughes Medical Institute (HHMI) Professors program and a second is the Louisiana-STEM (LA-STEM) program. Both programs focus on successful models for enhancing the educational experiences of a diverse population of undergraduate students through the use of mentoring, research, and educational tools. Both programs are reflective of the holistic model used in OSI for all of its programs. However, these two programs are designed to respectively enhance the educational performances of at-risk and high achieving diverse student populations. The HHMI and LA-STEM programs foster a "community of learners" atmosphere by providing an environment which focuses on peer-mentoring, metacognition (learning how to learn), time management, and undergraduate research. The elements and success of these two programs to date will be outlined and discussed. In addition, a comparison of the performance of these students relative to their LSU cohorts will also be outlined.
Coffee and Cookies will be served at 5:15 p.m. in SC108. The Seminar will begin promptly at 5:45 p.m. in SC101. Refreshments will be served immediately following the seminar in the McNulty Atrium
Categories: Science and Technology