A Tradition of Academic Excellence

For more than 155 years Seton Hall has been a place where leaders learn. A leading Catholic university, Seton Hall offers more than 80 rigorous academic programs that are highly ranked by The Princeton Review, U.S.News & World Report and Bloomberg Businessweek.


A Catholic Community that Cares

Seton Hall University has provides a nurturing, caring and supportive academic community which fosters the intellectual, emotional and spiritual growth of our students.
Internship and Career Success

At Seton Hall, we believe in empowering all students to discover their unique calling right from the start. We do this by offering exceptional career development services and opportunities.
Personal Attention

Personal attention is a hallmark of a Seton Hall education. We pride ourselves on small classes and dedicated faculty members who know more than just your name.
Redefining Leadership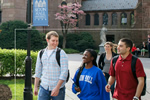 For more than 155 years, Seton Hall University has been a place where leaders learn. Bishop Bayley envisioned a university that would be a "home for the mind, the heart and the spirit" — a place that would develop well-rounded, compassionate leaders who are prepared to serve society.

Hands-on Learning

At Seton Hall, you learn by doing — exploring, challenging, discovering, questioning and discussing. We combine classroom learning with real-world, practical experiences to make learning more tangible; we forge connections between theory and practice.


Location, Location, Location

Seton Hall has the ideal location — close to all the action, yet not engulfed by it. The University's suburban, 58-acre park-like campus sits proudly within the picturesque town of South Orange, New Jersey.
Study Abroad…Gain a Global Perspective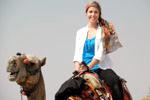 Understanding today's global community, a shared space where we depend on one another, is more than an ideal — it's a necessity. Seton Hall is perfectly positioned to prepare you to be a global leader.
Freshman Studies and Student Support

Seton Hall is dedicated to making your transition into college a smooth one — that's why we offer personal, one-on-one support through our award-winning Freshman Studies Program.
Life at Seton Hall - Where Leaders Learn to Have Fun

When our students aren't hard at work in the classroom, they're getting involved in the Seton Hall community — learning to lead with heart in campus organizations, participating in activities and making life-long friendships.


A Technological Advantage

At Seton Hall we provide our students with a cutting-edge technological advantage. Named  one of the Top 5 Most Connected Colleges by U.S.News and World Report, Seton Hall ensures the success of its students in a wired world  after graduation.