NEWS
Peter Shoemaker, Ph.D., discusses liberal arts, his proudest achievement and his experience studying for a year in Paris.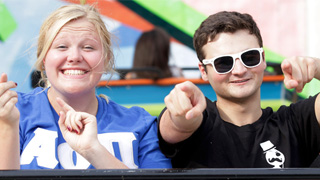 IN FOCUS
From Blue Day and Bongo Ball Mania to Music Under the Stars and Free Flick Friday, Student Activities Board has you covered.
NEWS
Three STEM alumnae have been accepted into the highly competitive Woodrow Wilson Teaching Fellowship Program for 2016.
Welcome Home Pirates
Our drone flyover catches campus excitement on Blue Day.