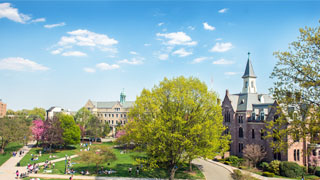 NEWS
This highly competitive grant will support faculty development workshops on "Medical Humanities: Pedagogy and Praxis."
NEWS
Attend Seton Hall University's Graduate Open House on Saturday, February 24 from noon to 3 p.m.
IN FOCUS
Men's basketball team placed at No. 15, Seton Hall's highest national ranking since also achieving No. 15 back in January 2001.
NEWS
After graduation, Graphic Design senior Paola Hegedus will pursue her faith as a missionary with Saint Paul's Outreach.
IN THE MEDIA
U.S. News & World Report
Robert Kelchen analyzes Pell Grant recipients and graduation rates.
NEWS
Samikkannu Thangavel, Institute of NeuroImmune Pharmacology, received a $2.2M NIH grant for Nuero-AIDS/drug abuse research.
Pirate Receives Homecoming Surprise
Freshman Shavar Reynolds, Jr., of the men's basketball team had gone a year without seeing his father, Shavar Reynolds, Sr., who is a Master of Arms Chief in the United States Navy.